Ladies & gents: diner is served!
For their so waited new store opening on New York's Fifth Avenue called Diesel Planet (20,000 square feet spread out of over three floors), Diesel decided to do the show. Instead of hosting another big fancy party, the italian brand decided to host a series of dinner parties in their Fifth Avenue window (titled "Five on Fifth") dressed like a real New York apartment.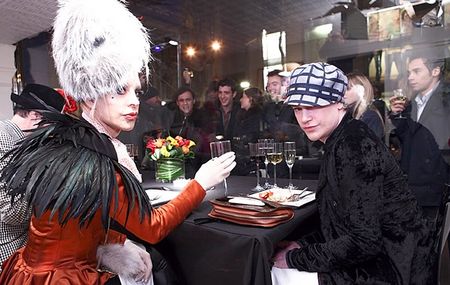 Each night was a different theme: a club night featuring key dj's like Richie Rich, Kenny Kenny and Patrick McDonald, a sports night with the key players from the New York Giants and then a Fashion night featuring the girls from Ford Models.
To see it live, it's here:
Diesel's new store on Fifth Avenue in New York took a decidedly different approach at a time when consumer behaviour and creative marketing is not only revered but essential. Everything was cleverly organised to appeal to a cross section of consumers and it seemed to have worked well if you have a look at all the people that were litteraly staring at the window (+ videos, photos, articles...). In fact, what were they looking at? People having diner....Beg your pardon? Oh sorry "celebrities"....which makes all the difference of course!
Well done to the agency in charge (Who was that by the way? Anyone knows?)